Christiane Völling: Hermaphrodite wins damage claim over removal of reproductive organs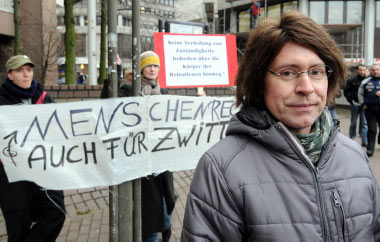 Christane Völling outside Cologne Country Court, 12.12.2007
(Photo © Express)
Christiane Völling was the first, and as far as we know only, survivor to successfully sue her mutilator. (In all other cases we know of a lawsuits were made impossible because of the statue of limitations.)
Hermaphrodite wins damage claim over removal of reproductive organs
Aug 12, 2009
Cologne - A surgeon was ordered to pay 100,000 euros (141,500 dollars) in compensation on Wednesday for performing an operation converting a hermaphrodite into a man without consent more than 30 years ago.
Claimant Christiane V., who was born without defining gender characteristics, was 18 years old when her reproductive organs were surgically removed without prior information or consent.
The doctor had been found guilty of unlawful intervention at a previous trial in 2008, but a second trial was needed to set the level of compensation.
Christiane V. said she considered herself a woman, even though she was raised as a boy.
A medical expert told the court that, even in 1977, it would have been possible for the claimant to live as a woman, by taking medicines and possibly undergoing operations available at the time.
During the initial trial Christiane V., now aged 50, had described years of suffering after the operation, including physical impairments, pain and psychological problems.
It was only during an appendix operation that the teenager, then called Thomas, was found to have a full set of female reproductive organs.
Up until that point the child was thought to have mixed male-female genitals and an atrophied reproductive system. In actual fact, the operation revealed a normal female anatomy, including an intact womb and ovaries.
The judges ruled that the surgeon should have aborted the operation at this stage.
During the trial, seen as setting a precedent, Christiane V. said she had been converted to a man against her will. While she demanded 'at least' 100,000 euros in compensation, she said she mostly sought 'moral recompense.'
The surgeon, who has now been found guilty on three separate occasions, can appeal the verdict.
© Deutsche Presse Agentur  
PS: The surgeon eventually gave up and paid the 100,000 Euros damages!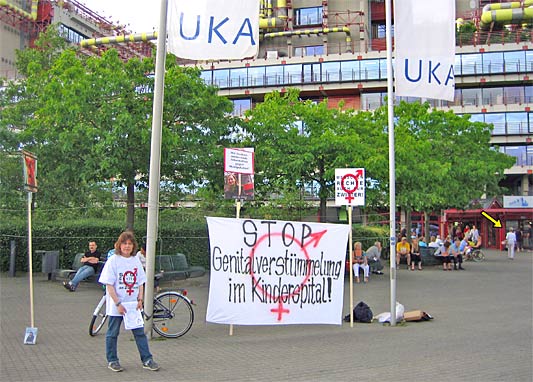 Christiane Völling protesting against "ethics lecture" by genital mutilator Susanne Krege
(in background with arrow), outside Universitätsklinikum Aachen, May 30, 2011
Published on Wednesday, August 31 2011 by DT1192-GANDI